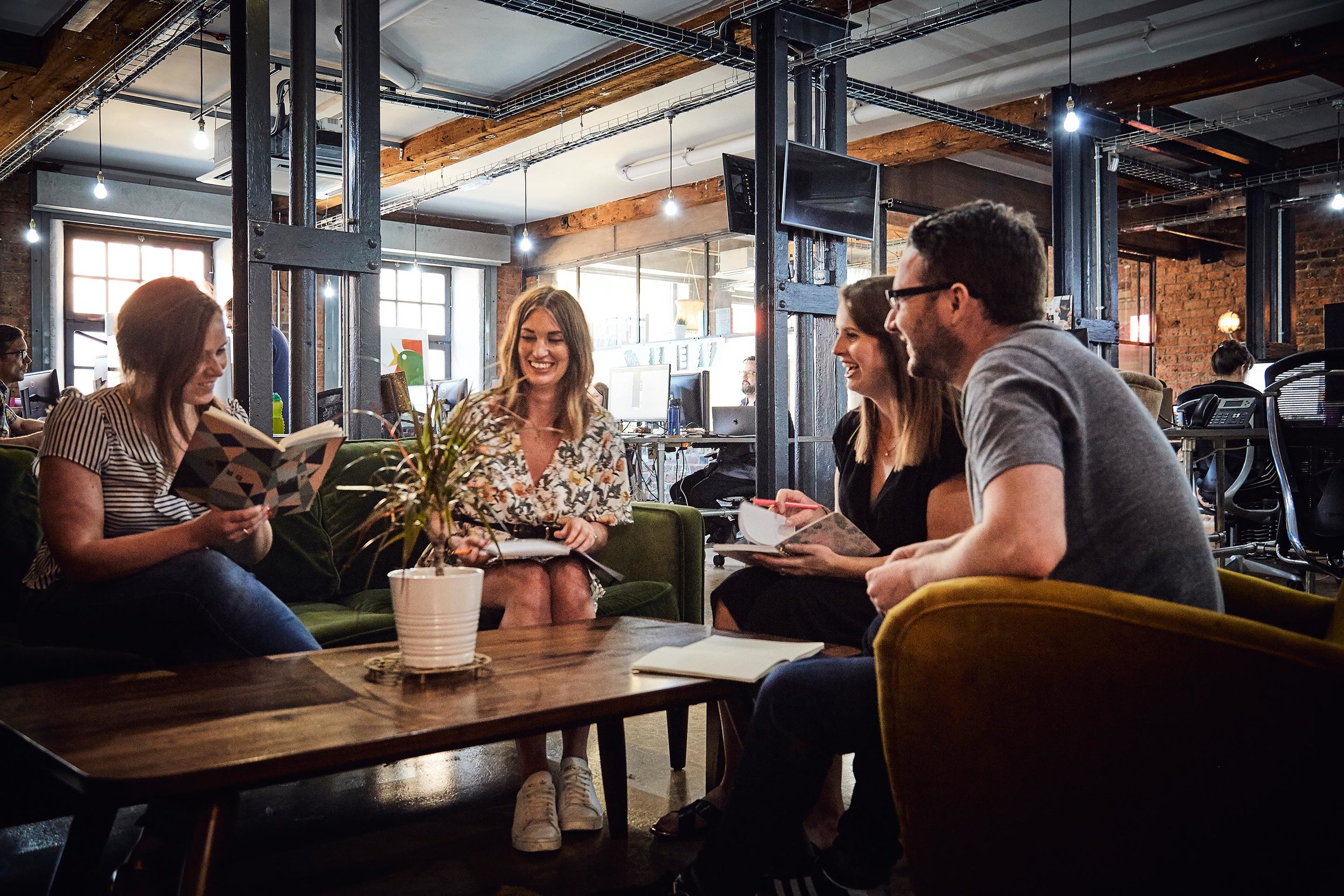 Collaboration is key to achieving success in business, regardless of your industry or organisation. In fact, 86% of workers cite a lack of collaboration, or ineffective communication for workplace failures.
Effective collaboration brings teams together, aligns goals, enables knowledge sharing and stimulates talent to thrive. And, in a time where remote working is commonplace in the UK and "you're on mute" is the most uttered business phrase, effective collaboration has never been more important.
In this article we reflect upon our lockdown experiences to explore the increasing importance of collaboration in the workplace, and outline 5 practices that have helped us improve how we work together, whilst we're apart.
HARNESSING TECHNOLOGY
Technology has reshaped the way we work, allowing businesses to run smoothly and efficiently during the transition to remote working. It is at the heart of everything we do at Aire, and is a key driver of our collaboration.
Score is our cloud-based management information system which covers the entire design-to-print and ecommerce process. Here, we coordinate all of our projects from raising new jobs, establishing dynamic critical paths and timing plans to approval, brief sharing and studio planning. Score allows us to track studio time and materials in detail and in turn measure profitability at a project level. Our business has a seamless flow of information between all departments, with a constant, single source of 'truth'.
Score drives our workflow automation, asset sharing technologies, and our highly-innovative, collaborative whiteboarding platform, which we use to guide our creative processes, from brainstorming and creative reviews to process mapping.
Regardless of our location, Aire's technology facilitates excellent communication and collaboration. In the words of Bill Gates, "The advance of technology is based on making it fit in so that you don't really even notice it, so it's part of everyday life."
EXPLORING WAYS OF WORKING
Processes are designed to streamline ways of working. At Aire we're never afraid to adapt our processes if they are causing confusion and inefficiency. In fact, our inhouse Lean SixSigma team undertakes periodic reviews, working with the relevant teams, of all our documented processes and procedures. As Henry Ford famously once said, "If you always do what you've always done, you'll always get what you've always got."
Earlier this week, our Client Delight team jumped on a video call to review our ways of working. We used a live poll feature to vote on a process we thought required updating, then we used technology to visualise the benefits of implementing these improvements for our team and our clients. We then mapped out a new process, taking into account the inputs from our team.
Agency life is busy, and the ability to spin multiple plates is a prerequisite for any role in our Client Delight teams. But every so often we put the plates down, link arms, and make positive changes to the business, which allow us to continue delighting our clients every day.
CHAMPIONING OUR VALUES
Having a clear set of values helps our people understand what our business stands for.
At Aire, our founding values are deeply ingrained within our business, so much so that they're displayed vibrantly within our office for all to see. Championed by our people, these values shape the way we collaborate, to achieve the company's vision and goals.
Be nice

Use good, honest judgement

See the opportunities, seize the opportunities

Delight our clients everyday

Make stuff happen
SHARING KNOWLEDGE
Knowledge sharing is key for any company wanting to achieve success; it informs decision-making, builds learning organisations and stimulates innovation.
At Aire, we've assigned subject matter topic experts within each team, which has generated an immediate and positive impact.
By making the breadth of skills and knowledge held by our people more transparent throughout the business, we've created an environment that promotes information sharing and collaboration, creating a 'life-long learning' approach that helps our talent thrive. Teamwork makes the dream work!
SCHEDULING SUPER SOCIALS

Social events can help to develop working relationships, and research has even shown that a social workplace can lead to an increase in quality of work by up to 35%.
At Aire, we love a good work social; there's nothing like letting your hair down and throwing shapes with the team until the early hours, especially after a busy week. But, even though we've missed out on this during the pandemic, we haven't let it rain on our social parade.
As part of our Christmas social, we invited clients to join us on a virtual Crystal Maze experience. Guided by a flamboyant maze master, we journeyed through the 4 adventure zones, taking on a range of challenges which put our problem-solving skills, memories, and even physical abilities to the test.
A highlight of our evening was a challenge that required an esteemed client to undertake vigorous exercise in his home office. We all shouted words of encouragement through our screens whilst watching him suffer, secretly thankful we weren't selected for the same task. He won the crystal though, and that's what counts!
Whilst we may have been apprehensive at first, we can safely say that the Crystal Maze experience was an absolute blast, and we can't wait to try the live version when life returns to normal.
Further to our Crystal Maze experience, our Client Delight team recently enlisted the services of award-winning mind reader, Edward Crawford, to… well, read our minds. He joined us on a video call and wowed us with some nifty card tricks, before exposing our deepest darkest secrets and what we had for breakfast (how did he know we love Coco Pops)?
Lockdown has forced us to become even more creative with our social events, but through sharing these experiences, we've learnt new things about each other (with a little help from our psychic friend), had some fun and grown stronger as a team. Now, there's simply nothing we can't accomplish together!
To find out more about our award-winning agency and how we can amplify your products in-store and online, contact us today.