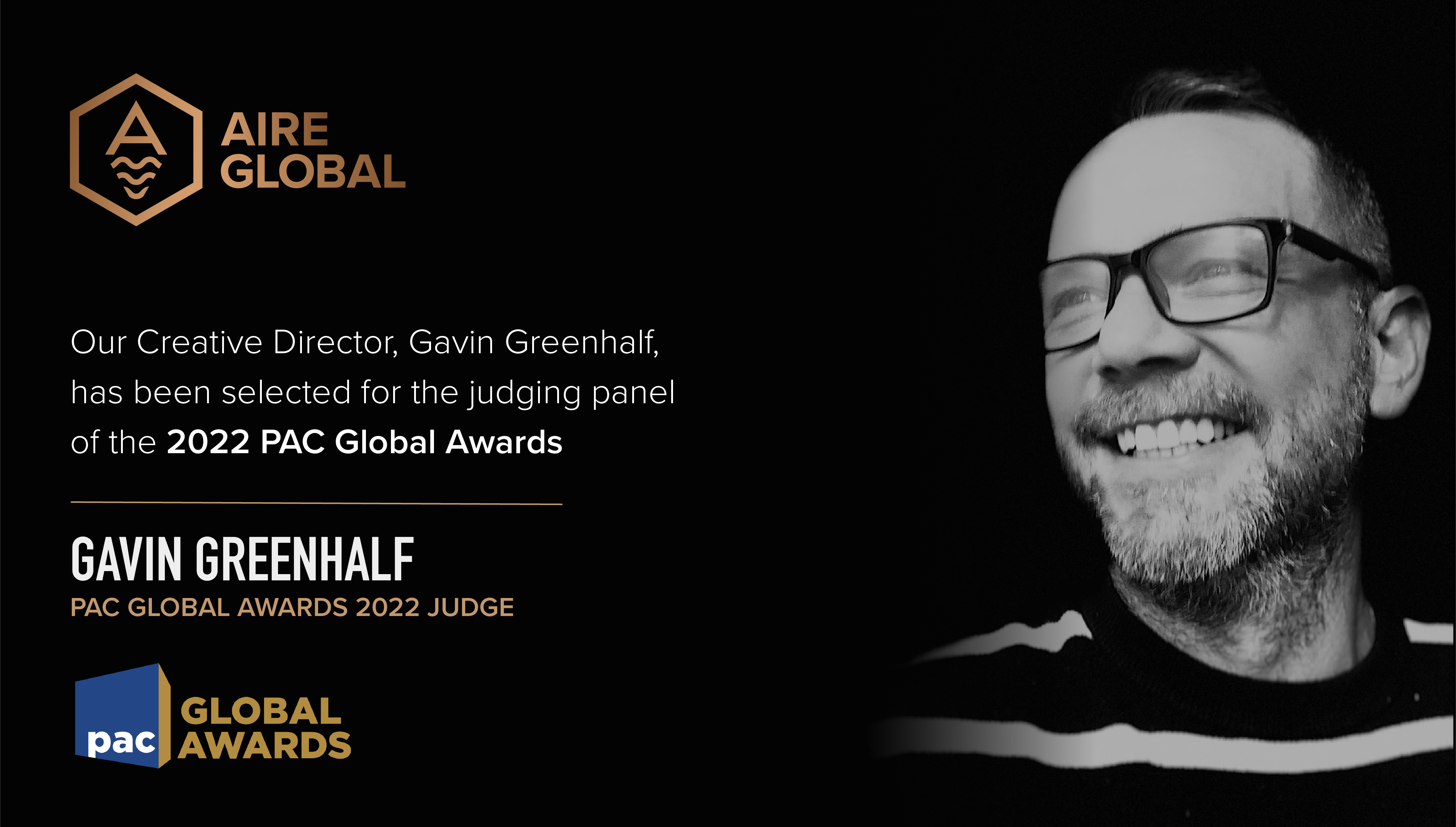 Aire Global's Creative Director, Gavin Greenhalf, has been selected for the panel of international judges at the prestigious PAC Global Awards in 2022. We sat down with him earlier this week to get his thoughts.
"I'm honoured to be part of the esteemed panel of judges for the 2022 PAC Global Awards, which highlight the importance of the PAC Consortium community, and its role in shaping the future of the packaging industry.
Over the past couple of years, we've seen continued challenges across the globe, and the creative industry is renowned for responding to these challenges with inspiring solutions. I'm truly excited to judge some of the innovative work that will be submitted as part of this awards process.
This year sees PAC embark upon the PAC IOU initiative (Inclusive Opportunities for Universal Packaging), which represents the first category of its kind within the packaging industry. PAC and its global leaders, which I'm proud to be part of, are committed to change and these awards provide an incredible opportunity to achieve just that.
Through acknowledging the diversity of the people the pack was designed for, such as those with varying abilities, ages, disabilities, learning styles, life experiences, races/ethnicities, religions, social classes, genders, and sexual orientations, the PAC Awards champion inclusivity and accessibility through packaging brand design and innovation.
Is the packaging innovative or trend-setting in terms of its branding, graphics and/or structural design? Has the pack been universally designed for equitable use, flexibility in use, simple and intuitive use, perceptible information, tolerance for error, low physical effort, size and space for approach and use? These are just some of the elements I will consider when judging entries for the PAC Awards.
Last year, Aire Global, supported Kellogg's and the RNIB to bring the accessible Coco Pops pack to the shelves. Not only did the pack incorporate braille, larger print and simplified artwork, but it also featured a UK-first technology, NaviLens, that allows smartphones to detect and playback labelling and allergen information to the user. As a result, not only did it win best in class at the 2021 awards, but it has since led to further pack optimisation across the wider Kellogg's portfolio, inspiring other brands to think more inclusively about their own packaging design.
In my role as Creative Director at Aire Global, I have been privileged to have had many conversations with people who live with visual or physical impairments. With the support of the Aire Global team, and the desire shown by our clients to make their products more holistically accessible, we are committed to creating positive industry change that makes the shopper experience a more level playing field.
I would like to encourage brand owners and agencies alike to submit their awards entries, with the deadline for the awards fast approaching. Small changes can really make such a huge impact."
For further details on how to enter, head over to the PAC Awards website.
To discover more about inclusive design, and how Aire Global can make your packaging design, point of sale and ecommerce content more universally accessible, book your Aire time today!