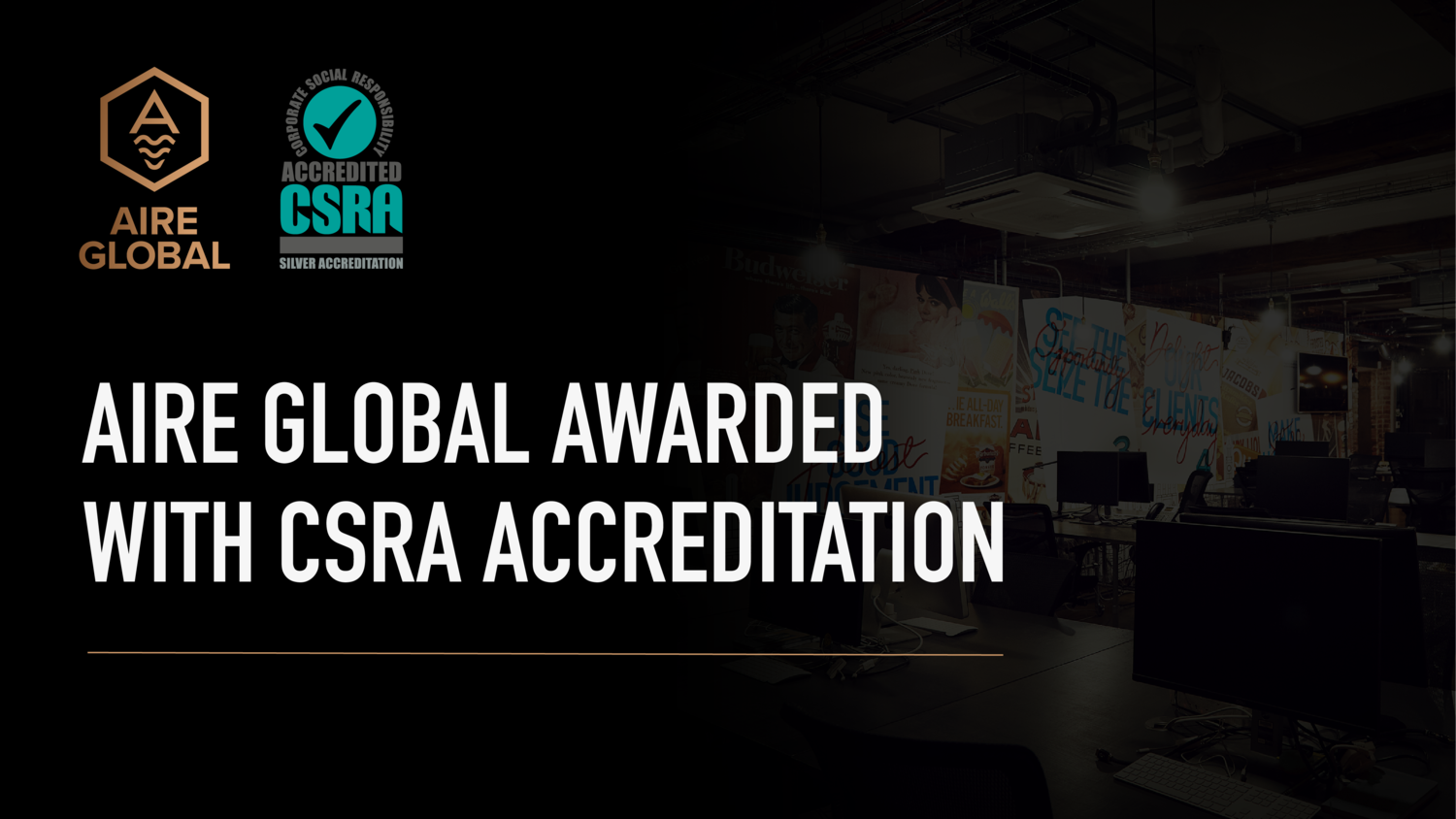 Aire Global has been awarded with a silver CSR accreditation by CSR-A — a leading UK based organisation that delivers the standard for social responsibility — in recognition of our socially responsible practices. Naturally, we've been jumping with joy ever since!
Investing in social initiatives has been a fundamental part of our culture since Aire was founded, and we're constantly on the lookout for new ways to build on our current practices, and make a lasting positive impact.
We'd like to share just a handful of these with you, to keep the conversation flowing and to inspire you to join us in making the world we live and work in a better place!
We're serious about sustainability
In the words of adventurer and author Robert Swan, "The greatest threat to our planet is the belief that someone else will save it." At Aire, we're empowered by the fact that we, as a business, can shape our planet for the better, and we have a range of initiatives in place to make our business more sustainable – and yours too!
Take EcoScore for example; our greener, leaner packaging sustainability software that's helping brand owners around the world, reach ambitious sustainability targets. It analyses the criteria, data, and decisions behind packaging projects, from design to print, to disposal and reuse, helping them meet the increasing demand for more sustainable product packaging.
Internally, we have various initiatives in place to help our people and our business reduce its carbon footprint, from our cycle to work scheme and electric company cars with on-site charging, to our paperless policy and remote press-passing.
We're also working with the UK Business climate hub to reach 'net zero' by 2050, with the ultimate goal of putting no more carbon into the atmosphere than we take out of it — and we're already well on the way to reach carbon neutral status by 2030!
We're all-inclusive 
At Aire, we strive to make our people feel part of our family. We host an internal monthly forum called 'Up for Aire' that promotes visibility and knowledge sharing. Here, our people showcase the latest projects they've been working on, whether it's a cutting-edge design project for one of our FMCG clients, a demonstration of our one our innovative artwork automation capabilities, or a Lean Six Sigma implementation that streamlines our ways of working; we encourage everyone in all areas of the business to get involved, recognising all contributions, celebrating successes, birthdays and anniversaries.
We're also leading the way in the field of inclusive design, working with many global brand owners to make their product packaging more universally accessible, in-store and online. We've even hosted a number of webinars featuring world leading experts on the topic!
We're energy efficient 
Not only does energy efficiency help businesses lower their operating costs, it also helps reduce their carbon footprint; it's a win-win situation!
At Aire, our modern studios in Leeds and Manchester both use LED lighting for energy saving, and our communal areas have PIR switches that automatically turn off the lighting when not in use. On top of that, we have invested in state-of-the-art servers which supercharge our networks and help us operate more efficiently, whilst leading to financial savings for the business in terms of power consumption.
We're investing in our people and community
Our people are the single most important asset to our business and we provide regular training and development opportunities, creating a life-long learning approach that allows our talent to thrive.
Earlier this year, we introduced a hybrid-working policy, helping our people social distance and keep safe during the pandemic, whilst offering them a better work-life balance, limiting their commute and carbon emissions. We're also a proud member of the 5% club, meaning that we aspire for 5% or more of our workforce to consist of people in 'earn and learn' positions such as apprenticeships.
Not only do we invest in our people, we give back to our community too; regularly collecting for food banks, volunteering at local charities and offering our marketing design services to help them generate greater awareness and engagement. As Winston Churchill once said, "We make a living by what we get, but we make a life by what we give."
Fancy working for Aire Global? We're always on the search for the right people. Simply send your CV to futures@aireglobal.com and we'll do the rest.