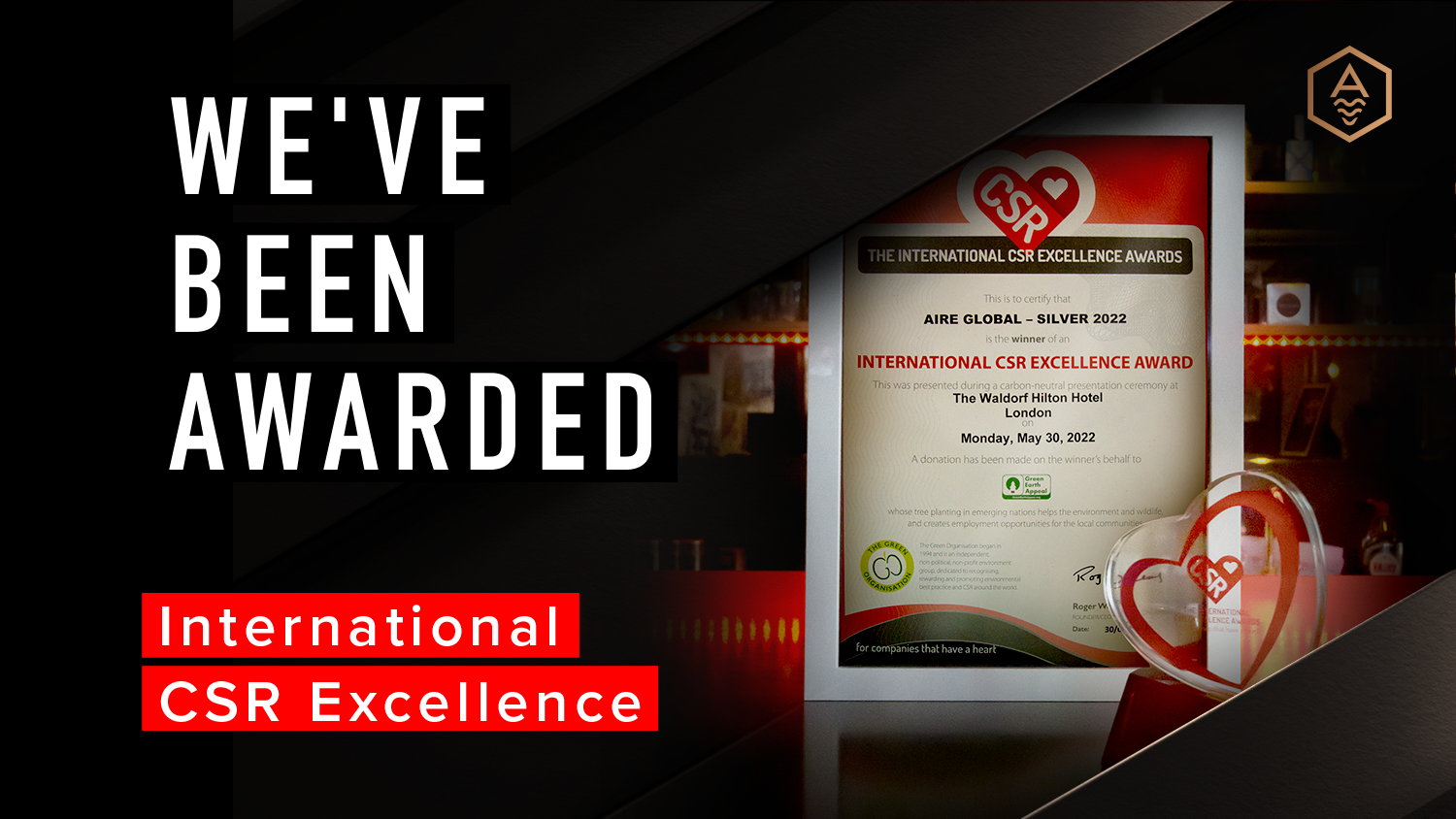 Aire Global became a CSR-A accredited organisation in December 2021 in recognition of our Good Social Responsibility policies.
CSR-A (Corporate Social Responsibility Accreditation) is a leading UK-based organisation that delivers the standard for social responsibility, with a focus on a business's ability to manage the four pillars – Environmental, Workplace, Community and Philanthropic.
Earlier in 2022, Aire Global was entered into the International CSR Excellence Awards.
Guess what?! – We won the award and to say that we are 'thrilled' is an understatement. This recognition will help further focus our drive to do our bit to help build a better world for future generations – improving the environment and ensuring a cohesive community to live and work in.
The standard for social responsibility is based on four pillars which Aire focus on
1. Environmental
100% renewable energy supply since founded, waste management policy, Race to Zero commitment, EcoScore technology to drive down FMCG brand owner environmental impact
2. Workplace
Inclusion and diversity, equal opportunities, learning and development, employee benefits, health.                  and wellbeing
3. Community
Community commitment, charity work, partnerships with education
4. Philanthropic
Volunteering, charitable giving and investment, inclusive design making packaging accessible to all.
A survey was sent out to all Aire employees to understand what's important to us at Aire – here's a snapshot of our thoughts
Q – What areas do you consider to be important for social responsibility?
1. Sustainability – Eco friendly packaging, encouragingplant-based diets, awareness of recycling arrangements, reducing carbon footprint
2. Employee Welfare – Provide professional development opportunities, a focus on mental and physical health, making the workplace more diverse, ensure a consistent pay grade, helping inexperienced professionals learn the trade
3. Charity – Giving back to local communities, partner with local initiatives and charities, volunteering, donation of time
Q – What Does Aire currently do well for social responsibility?
1. Charitable work
2. Reduce carbon footprint
3. Employee wellbeing
4. Inclusive design
5. Equality
The heart of our business is our people, the right people in the right seat– this has been our mantra since day one. We continually seek to improve ourselves with new initiatives and have found efficiencies in new ways of working and continue to work towards our culture remaining strong.
Our commitment to charitable giving (both financially and donating time/services) has always been high on our list, as we believe that when we are successful, we should share that to improve the lives of others around us. Our staff are always highly engaged in charitable giving and schemes such as internships for those needing help with their first step.
We're passionate about doing our bit to help build a better world for future generations by improving the environment and ensuring a cohesive community to live and work in.