Budweiser adaptive design, production and colour management
The Background
Budweiser Brewing Group (BBG) know better than most that brewing high quality beer relies upon high quality ingredients, those of which are only accessible in healthy, natural environments and thriving communities.
The company aims to bring people together for a better world, now, and for generations to come. Sustainability isn't just part of its business; it is its business.
Back in March 2017, BBG committed to a set of ambitious sustainability goals, including securing 100% of its purchased energy from renewable sources. In 2018, it took a step closer to meeting this objective, by appointing renewable energy developer Lighthouse BP to power its two main UK-based breweries, where a staggering 17 million bottles and cans are brewed every week.
The Brief
BBG approached Aire at the beginning of 2020 with a clear brief; to communicate Budweiser's 100% renewable brewing process across its entire product portfolio.
This pack adaption, reflecting Budweiser's increasingly sustainable practices, would need to offer the brand greater appeal to the modern, more environmentally conscious consumer.
The Challenge
BBG supplied Aire with the 'renewable stamp' concept featuring the text 'Now brewed with 100% renewable electricity', housed within a battery icon.
Our challenge was to apply this prominently and consistently across all pack variants, without compromising on the clarity of the iconic Budweiser branding and also ensuring complete consistency across the entire portfolio.
The Result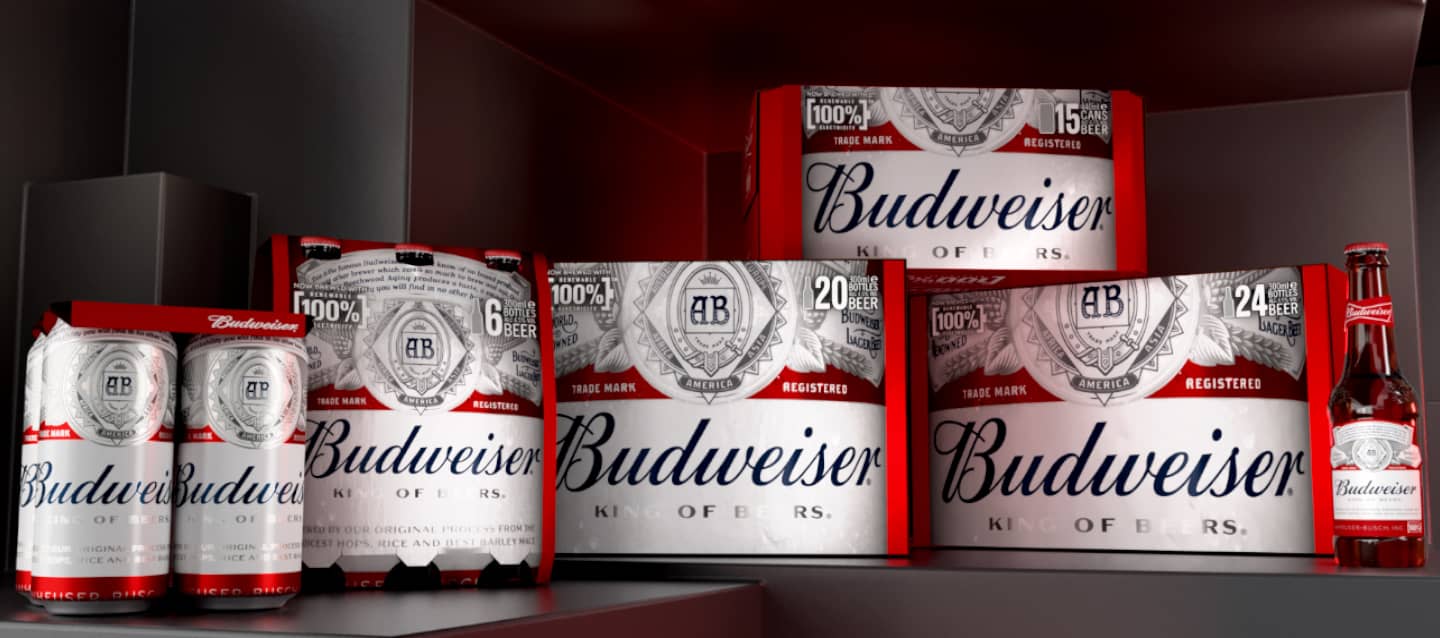 We placed the renewable claim centre stage on top of pack, to provide maximum impact. The stamp was also applied more subtly to the front face and where possible, the sides of pack, further reinforcing the initiative without detracting from the branding and secondary communications. Creative mission accomplished!
Next, our expert production teams were called in to action, tasked with creating all artwork variants accurately using our Automated Artwork Technology as well as deploying Rhubarb, our best-in-class Digital Colour Management solution.
Rhubarb enables all print vendors, covering all packaging formats and materials, to provide harmonious colour synergy essential for effective brand building when bringing all packaging components and formats together in store. In the eyes of the consumer, the complexity of the behind-the-scenes supply chain becomes invisible as the iconic Budweiser red and blue take control across the SKU portfolio.
Using our proven rigorous master and rollout strategy, a very high percentage of right-first-time (RFT) artworks were achieved, reducing the number of overall cycles required.
We then aligned the new imagery to the AB InBev brand colours, retouching to a range of printer profiles. This was completed and approved upfront, using our colour accurate proofing technology and negating any requirement for a conventional print trial.
Through up-front and continuous collaboration with the print vendors along the way, we were able to capture all technical details, to ensure that our files were fit for print with no issues on press.
On top of these streamlined print management and production processes, we also developed the 100% packaging guidelines, detailing the applications of all assets featured on pack, to ensure brand consistency across the various global markets.
As a strong advocate of sustainable practices, Aire Global is proud to partner AB InBev on its journey towards a greener future, and have loved seeing the new packs freshly arrive in our local supermarkets.
To learn more about our transformative brand design and next-gen production services and how we can amplify your brand, both in-store and online, book your Aire time today!